Europe tour 2021 with Unleash The Archers and Striker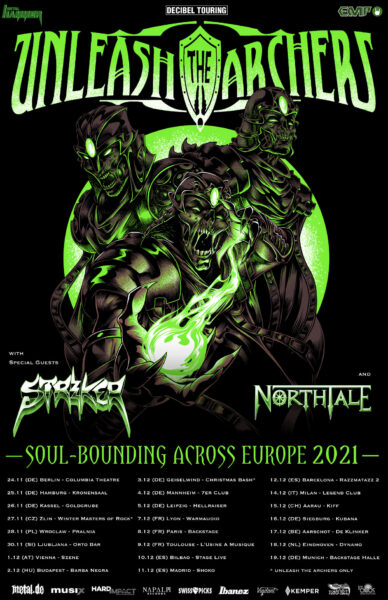 SOUL-BOUNDING ACROSS EUROPE 2021!
In August 2019, power metal newcomers NORTHTALE released their successful debut album "Welcome To Paradise" and recently announced their new vocalist: the 30 year old Guilherme Hirose from Sao Paolo, Brazil. Today, the band is happy to reveal a new clip of the song "Bring Down The Mountain" with Guilherme Hirose on vocals.
"After getting such amazing feedback on our new singer, you asked us to hear him singing some of the songs from "Welcome To Paradise". Based on your feedback and your votes, we present you the first video of Guilherme Hirose singing "Bring Down The Mountain". That being said… just wait to hear him on our new album", comments guitarist Bill Hudson.
Last week, NORTHTALE announced that they will be supporting UNLEASH THE ARCHERS and STRIKER on the upcoming European "Soul-Bounding Across Europe 2021" tour, which will kick-off in November in Berlin.
24.11 (DE) BERLIN @ Columbia Theater
25.11 (DE) HAMBURG @ Kronensaal
26.11 (DE) KASSEL @ Goldgrube
27.11 (CZ) ZLIN @ Winter Masters of Rock*
28.11 (PL) WROCLAW @ Pralnia
30.11 (SI) LJUBLJANA @ Orto Bar
1.12 (AT) VIENNA @ Szene
2.12 HU) BUDAPEST @ Barba Negra
3.12 (DE) GEISELWIND @ Christmas Bash*
4.12 (DE) MANNHEIM @ 7er Club
5.12 DE) LEIPZIG @ Hellraiser
7.12 FR) LYON @ Warmaudio
8.12 (FR) PARIS @ Backstage
9.12 (FR) TOULOUSE @ L'Usine A Musique
10.12 (ES) BILBAO @ Stage Live
11.12 (ES) MADRID @ Shoko
12.12 (ES) BARCELONA @ Razzmatazz 2
14.12 (IT) MILAN @ Legend Club
15.12 CH) AARAU @ KiFF
16.12 (DE) SIEGBURG @ Kubana
17.12 (BE) AARSCHOT @ De Klinker
18.12 (NL) EINDHOVEN @ Dynamo
19.12 (DE) MUNICH @ Backstage Halle
TICKETS ON SALE NOW!!!!!!!!